Replacing Symantec ?
MAKE THE RIGHT CHOICE
Win with Bitdefender®:
Award-winning next-gen security suite
Seamless migration
Commitment to your success
Contact us for more details

Esurance
"By moving to cloud, we needed a product that was easy to manage and deploy via a single console. Unlike niche-oriented products, Bitdefender provides a holistic, layered solution with endpoint detection response (EDR), anti-virus, anti-malware, behavior learning, and patch management all wrapped together."
– Lance Harris, Chief Information Security Officer

HAN University of Applied Sciences
"We were impressed with GravityZone Elite's machine learning and sandbox analysis capabilities to help us detect and keep out advanced threats, such as file-less and zero-day attacks. In our testing of various security solutions, GravityZone delivered the best malware detection rate of 100 percent."
– Johan Vorsterman, Technical Project Lead

Great Expressions Dental Centers
"I'm the kind of person who likes to push and get things done quickly. My technical team installed Bitdefender and removed Symantec across our entire environment [of 275 dental locations in 10 states] in three weeks when I had allocated two months. How often does that happen?"
– Kevin Schokora, Director of IT Operations
Bitdefender GravityZone
A Proven Leader in Endpoint Security
"We've reduced time spent on responding to cyberattacks by nearly 94%.
That means we have time to work on projects that more directly help the business."
– Matt Ulrich, Network Administrator, Speedway Motorsports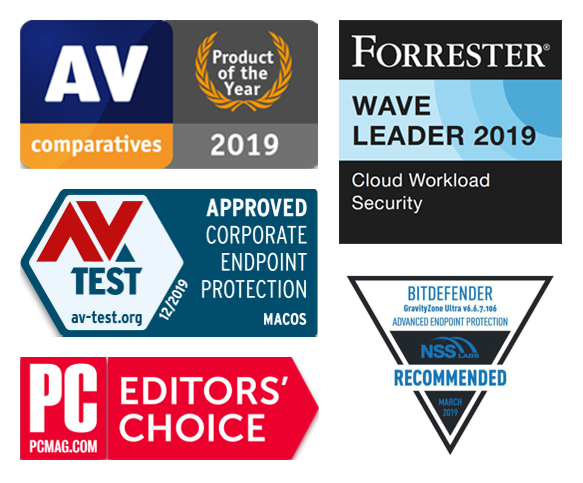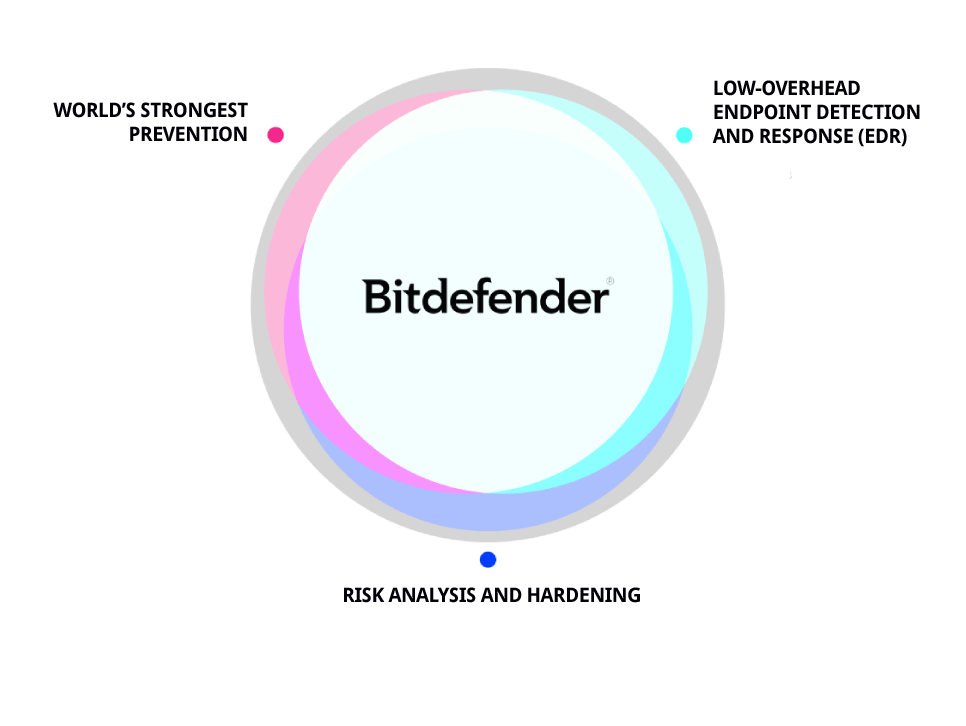 Why Choose Bitdefender GravityZone
"Incredibly comprehensive and effective endpoint security in one package"
– A Gartner PeerInsightsTM review, 2019
✔️ WORLD'S STRONGEST PREVENTION
Automatically stop 99% of attacks with #1 ranked prevention that combines over 30 technologies, including tunable machine learning​, sandbox analyzer, anti-exploit and behavioral analysis.
✔️ LOW-OVERHEAD ENDPOINT DETECTION AND RESPONSE (EDR)
Gain comprehensive, real-time visibility into suspicious activities. Effectively investigate and respond to incidents – all from the same management console.
✔️ RISK ANALYSIS AND HARDENING
Strengthen security posture with integrated device- and application control, patch management, encryption and other technologies. Leverage integrated Endpoint Risk Analytics to continuously assess, prioritize, and address risks.
One Bitdefender GravityZone for Many Symantec Products
KEY DIFFERENTIATORS

BITDEFENDER GRAVITYZONE

SYMANTEC ENDPOINT PROTECTION (SEP)

A comprehensive single-agent, single-console endpoint security solution

✓ Integrated platform covering an extended technology stack and all endpoint types (physical, virtual, cloud, mobile, email)

✘ Requires multiple products, agents, and consoles

Integrated technologies managed from the same console:

Endpoint Detection and Response (EDR)

✓ Fully integrated

✘ Requires a standalone product: Symantec EDR

Endpoint Risk Analytics with Hardening Recommendations

✓ Fully integrated

✘ Not offered

Email Security

✓ A fully integrated add-on

✘ Requires a standalone product: Symantec Email Security.cloud

Patch Management

✓ A fully integrated add-on

✘ Not offered

Threat Intelligence

✓ Fully integrated

✘ Requires two standalone products: Symantec EDR and DeepSight Intelligence

Incident response capabilities

Ability to contain systems and perform investigation and remediation via secure remote connection

Limited to blocklists and rules. Remote response requires a standalone product: Symantec EDR

Attack visibility

Comprehensive visualizations present attack details in full context to quickly understand the threat

Antivirus alerts report blocked files with limited threat context. Advanced visibility requires a standalone product: Symantec EDR

Performance-tuned, efficient architecture for virtual and cloud workloads

✓ GravityZone's scan offloading and patented caching and scanning algorithms enable up to 55% higher virtualization density and 10% faster app. performance vs. Symantec SEP

✘ Heavy endpoint agents consume extensive CPU, memory, and other resources, reducing virtualization density and increasing latency

Security-workflow automation via integration with infrastructure-management tools

✓ Integrates with VMware® vCenter Server, NSX-V and -T, VMware Cloud on AWS, Nutanix® Prism, Citrix® XenServer, AWS® EC2, Microsoft® Azure and Pivotal® Cloud Foundry

✘ Not offered. Integration with VMware requires a standalone product: Symantec Data Center Security (DCS)