Bitdefender
GravityZone Cloud MSP Security
Risk Analytics, Hardening, Next gen AV, and EDR managed from a single MSP console with usage based licensing
The most effective advanced attack protection MSPs can get. Proven in real-world tests
AV or endpoint protection is not enough to stop new ransomware, 0-day exploits, or fileless attacks.
Bitdefender MSP Security lets Managed Service Providers (MSPs) stop these threats more effectively thanks to the extensive set of hardening, prevention, and detection layers, and the machine learning and behavioral technologies perfected over more than 10 years with data from over 500 million devices.
Unlike other next-gen and EDR solutions, Bitdefender consistently demonstrates better effectiveness in independent real-world security tests.
See how MSPs increase protection and profits with Bitdefender
The Bitdefender unified layered approach stops most threats automatically, before they turn into breaches. Use a single MSP GravityZone console, integrated with RMM tools, to better protect customers, streamline tasks and grow profits.

Most effective advanced attack protection
More mature technologies and extra protection layers help Bitdefender stop more advanced threats and consistently outperform other next-gen AV and EDR products in real-world tests.

Reduced data breach risk and investigation efforts
The Bitdefender approach leverages extensive risk, hardening and prevention to stop threats before they execute, unlike EDR-first tools that rely on incident detection, after a breach has happened.

Unified management and profitable MSP program
Bitdefender GravityZone consolidates encryption, content control, patching, AV, risk analytics and EDR. Together with usage-based licensing and aggregated price tiers, this boosts MSP security and profits and reduces overhead.
Endpoint risk analytics and management
Bitdefender Endpoint Risk Analytics shows you risk scores based on your customer's device settings in Browser Security, Network and Credentials, and OS security, and takes into account application vulnerabilities.
This gives MSPs continuous visibility of their customers' security posture and lets them compare risk across companies and time and show improvements or support compliance with regulations around system benchmarks.
To mitigate risks and reduce the attack surface area, you can drill down to see misconfigurations and apply fixes. About 90% of misconfiguration fixes can be applied automatically and, if you are using Bitdefender Patch Management, you can also apply the missing patches from the same risk view, with minimum effort.
Advanced Threat Prevention
Effective automated prevention of advanced attacks is essential to avoid potential data breaches and reduce the need for manual incident investigation.
The following technologies, available with the Bitdefender Advanced Threat Security (ATS) add-on product, are designed specifically to uncover elusive threats and stop them before they can execute and cause harm:
HyperDetect

Tunable Machine Learning stops advanced attacks at pre-execution with an advanced set of ML algorithms you can configure to be more aggressive in 'block' or 'report only' modes.
Fileless Attack Defense

analyzes command code in memory and blocks rapidly growing fileless or script-based attacks that leverage tools such as PowerShell or Command Prompt.
Sandbox Analyzer

detonates suspicious files or scripts automatically or manually to provide a verdict and full threat context visibility with the changes an item is trying to make.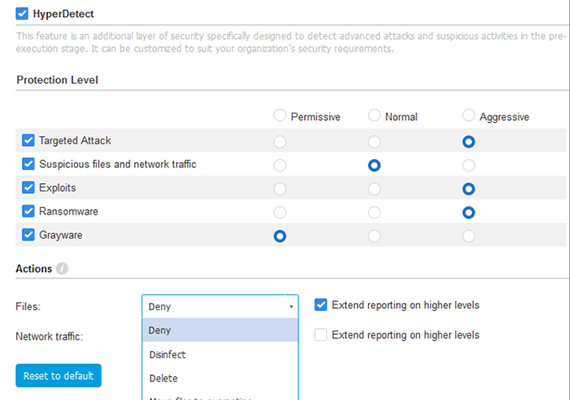 Endpoint Detection and Response (EDR)
Despite the best hardening and prevention, sophisticated attackers and insiders still gain access to MSP or customer infrastructures. It has become essential, then, to detect and stop ongoing threat behaviors before they turn into costly data breaches, and to gain full Attack Visualization to find security gaps or show incident impact for compliance audits.
Integrating machine learning and behavioral technologies perfected since 2009, Bitdefender EDR delivers more actionable detections than any other vendor, as proven in MITRE 2020 tests. MSPs minimize their operational burden with more contextual information, extra technologies that filter out noise, prioritized incidents, guided investigation and response steps.
For organizations whose existing endpoint security doesn't provide the advanced attack visibility and response required, adding Bitdefender EDR is a quick and effective way to strengthen security. Upgrading to use EDR with Bitdefender hardening and next-gen AV is recommended to automatically stop most threats before execution, minimize data breach risks, and streamline security management.
Managed Detection and Response for MSPs
Bitdefender now delivers threat hunting, detection and response as a managed service designed for MSPs. This helps Managed Service Providers lacking in-house security experts to offer the highest level of protection for sensitive customers and stop advanced persistent threats (APTs).
Bitdefender Managed Detection and Response for MSPs pairs award-winning detection and prevention engines with a modern 24×7 security operation staffed by world class expertise to hunt, identify and eradicate adversaries.
Managed Detection and Response for Managed Service Providers will have two engagement options – Expert Advice and Expert Response. With the Expert Advice option the Bitdefender MDR team provides monitoring and recommends actions needed to stop or mitigate attacks. With the Expert Response option, the Bitdefender MDR team will also affect real-time changes in the customer's environment when security incidents are identified, based on a set of pre-approved actions agreed on with the MSP.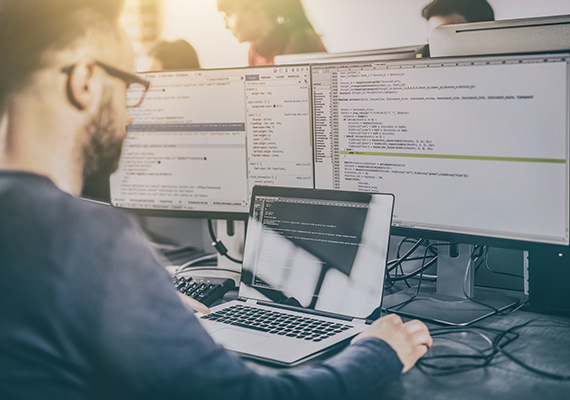 Stop more data breaches and elusive ransomware with Bitdefender layered MSP security
Easily activate and administer core protection and add-ons with a simple web console, extensive RMM Platforms integrations and APIs
Hardening and
Risk Analytics
Risk Analytics
Track and fix misconfiguration and vulnerability risks
Full Disk Encryption
Simple key management and compliance reporting on Windows and Mac
Web Threat Protection
Web traffic scan (inclusing SSL), anti-phishing, Search Advisor
Content filtering and control
Restrict user access to websites or web categories such as gambling
Device Control
Control which USBs or other external devices can run on user systems
Prevention, Behavior Monitoring and Remediation
Exploit Defense
Detects exploit techniques, stops known and 0-day exploits
Local and Cloud Machine Learning
Identifies unknown malware using ML models perfected since 2008
0-Trust continuous process behavior monitoring
Monitors all running processes, detects and stops malicious ones automaticaly
Network Attack Defense
Blocks network-based attacks such as Brute Force or Password Stealers
Firewall
Host firewall with IDS protecting endpoints inside and outside the network
Email Security
Dedicated product to block advanced email attacks, phishing, email compromise, and spam
Automated Disinfection and Removal
Automatic actions to block, disinfect or delete threats
Fileless Attack Defense
Scans command lines in memory blocking fileless or script-based attacks
HyperDetect Tunable Machine Learning
Special ML models that block hacking tools, fileless attacks, zero-day malware
Cloud Sandbox Analyzer
Auto or manual detonation of possible threats to get a verdict and insights into threat actions
Endpoint Detection and Response
Kill Chain Visualization
Ability to view each stage of a security incident
Root Cause Analysis
Information on how an attack happened and find security gaps
Incident Detection and Guided Investigation
Prioritized incidents with contextual information and investigation tips
Anomaly Detection
Detection of potential attacks by analyzing deviations from regular behaviour patters
MITRE event tagging
Contextual information around incidents using the MITRE standard
Isolate endpoints
Disconnect infected endpoint from the network with one click
Remote commmand shell
Remote command shell from GravityZone into infected or suspicious systems
Managed Detection and Response
Bitdefender expert threat hunting and monitoring augmenting MSP capabilities
One console, optimized security for physical workstations and servers, Virtual and Cloud workloads.
Integration and technology partners for Cloud and MSP Solutions
With more integrated solutions than any other security vendor, Bitdefender does more than understand the MSP community. We are part of it. We work with tools that you use every day.


Still have questions about GravityZone Cloud MSP Security?
Do you need help deciding which solution is right for you? The Bitdefender Sales Team is happy to be of service.